As you guys know me by now, I love a bargain and I love dupes. I am all for high end brands too, but being a student I hardly have any money to splurge. So I discovered this brand Famous cosmetics, they were in superdrug stores at one point and I remember them but every time I wanted to purchase something, everything was cleared out off their shelves because of popularity, this was before they re branded. Anyways I discovered their website and everything on their website is on special offer (if i had the money i would have purchased all the blushes, their palettes, compact mirror and all their facial products). I'm really obsessed with blushers and bronzers at the moment. So i purchased all their baked bronzers and shimmer bricks.
As can been their package is amazing, its a gorgeous reflective mirror effect screw top lid with a leopard print design on. The leopard print seems to be universal across most of their packaging. So stylish and absolutely lovely to carry in your purse and whip out for everyone to admire!
Inside you can see there a built in mirror, they do come with mini brushes in each i haven't really tested them out, they are cheapo things but soft and not scratchy so could be used just for on the go. There used to be another shade of these but unfortunately it got discontinued. But they could easily be dupes for MAC Mineralise Skin Finishes.
Bali
Miami
Hawaii
Swatches of all 3 baked bronzers
As you can see the swatches show how pigmented they are Hawaii is slightly on the orange side but can be used as a blusher rather than an all over face bronzer but could work great on deeper skins in that way. These swatches don't have glitter in them they have a lovely finish and are shimmery but not over the top. just as long as you use the products sparingly. Miami is very faint so can be used all over the face like a M.A.C MSF. These will leave a dewy finish so would not be ideal for contouring or if you have oily skin.
I'm so in love with these shimmer bricks, for one, they are great dupes of the Bobbi Brown Shimmer Bricks, secondly the shimmer bricks are versatile and there's so many colours packed in each the possibilities are endless with these you can pick and choose which colour you want to use and they can be used for eye shadows as well as for the cheeks. Therefore, it is great for travelling as you can grab one of these and save carrying a load of products, plus the mirrors are great for touch ups. I love the look of the compacts I think they look really attractive, older generations may not like it but that would be down to personal preference, if you aren't liking the packaging these could easily be depotted and no one would know ;).
Again with these and as the name of the products imply, they are shimmery and they are very pigmented so be cautious when dipping your brushes into these as your face will look like a disco ball if you pick up too much product. They blend out beautifully though and give a subtle hint of colour to the cheeks, its great if you love a dewy finish, and eliminates the need for an illuminator/highlighter on your cheek bones. I also love the names of their products as they are named after Famous people just like the brand name, I think its a nice touch.
Swatches of them separately and sweeped together shown below:
Lady Shimmer Brick
Lady Shimmer Swatches




Rihanna Shimmer Brick
Rihanna Shimmer Swatches
Mariah Shimmer Brick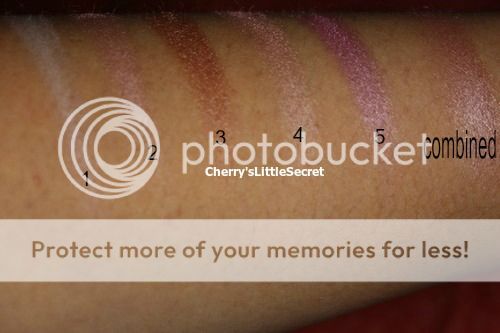 Mariah Shimmer Swatches
Beyonce Shimmer Brick
Beyonce Shimmer Swatches
I love the brand and the quality of makeup is superb, I will purchase again, I am even thinking about buying some of their blushes and palettes for a friend.
Overall the products are pigmented and silky, they are also not dusty, so you wont be wasting product. Highly recommended for beginners and anyone who loves shimmery cheek products without glitter or obvious shimmer. Definitely comparable to high end products!
Products can be purchased from
here.
Below is a link to my youtube Xmas haul video which features these beauties! Enjoy!